Nickel Mandrels
Limpact is a leading global supplier of Nickel mandrels, with proven installed references at the world's two (2) LARGEST nickel smelters, being VALE and NORILSK NICKEL
VALE (VINL) awarded LIMPACT INTERNATIONAL, on June 30th, 2010, the order for the Electrowinning Nickel & Cobalt Mandrels and Cathodes for the Long Harbour Processing Plant Project to supply 19,814 SST Explosion Bonded Stainless Steel Cathodes for their new Electrowinning Project in Newfoundland Canada. Limpact today remains, after 10 years, the valued supplier for the plants explosion bonded head bars.
Limpact cathodes were purchased and operated at the VALE Argentia Demonstration Plant from July 2005 to June 2008. During the three (3) year demonstration operation, the Limpact cathodes proved to operate as was expected, with excellent electrical efficiency and corrosion resistance in an EW environment. NO other competitor cathode came close to the same operational performance.
The Limpact Mandrels were supplied using Limpact's Proprietary Explosion Bonding (EXB) Technology which creates an atomic bond between dissimilar metals
Limpact changed the proposed mandrel design basis from the traditional tried and proven steel bar to the Limpact EXB solid copper bar encapsulated by a SST tube, further enhancing the operational savings.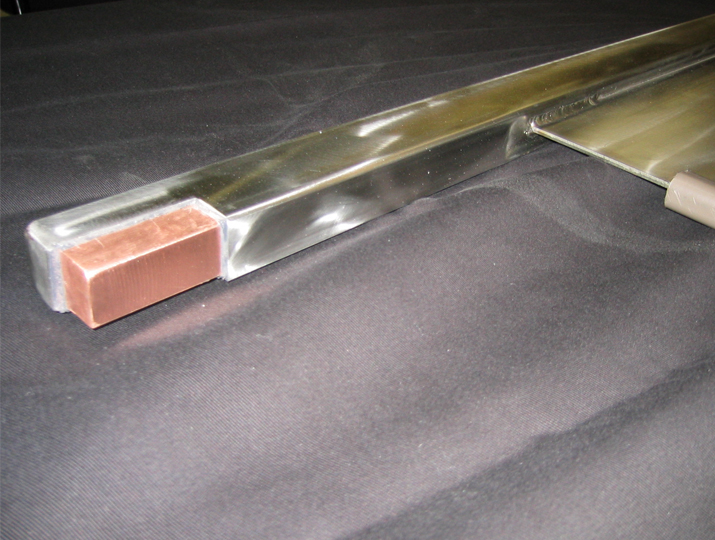 Titanium Cathodes
Titanium Cathodes designed for your tank house. Limpact can design and supply different Titanium Cathode configurations.
Titanium tab can be explosion bonded to a solid copper hanger bar, using Limpact proprietary explosion bonding technology, to allow for structural welded connection between the copper hanger and the Titanium Cathode plate.